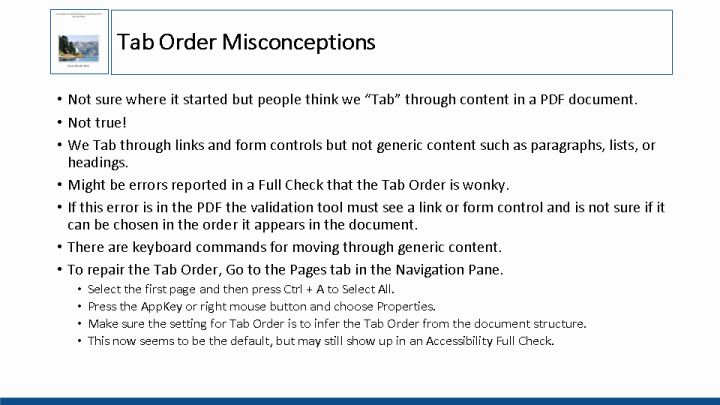 Text and Images from Slide
Tab Order Misconceptions
Not sure where it started but people think we "Tab" through content in a PDF document.
Not true!
We Tab through links and form controls but not generic content such as paragraphs, lists, or headings.
Might be errors reported in a Full Check that the Tab Order is wonky.
If this error is in the PDF the validation tool must see a link or form control and is not sure if it can be chosen in the order it appears in the document.
There are keyboard commands for moving through generic content.
To repair the Tab Order, Go to the Pages tab in the Navigation Pane.

Select the first page and then press Ctrl + A to Select All.
Press the AppKey or right mouse button and choose Properties.
Make sure the setting for Tab Order is to infer the Tab Order from the document structure.
This now seems to be the default, but may still show up in an Accessibility Full Check.